Beginning with version 11, Advantage ships the Web Platform, a web service that allows applications to communicate with Advantage Databases without having a specific Advantage Client Engine (ACE) available. The ACE is only available for Windows and Linux. Using the Web Platform, any device with any operating system that supports http(s) communication is enabled to access Advantage data, including Android, iOS, and Windows Phone. The Advantage Web Platform is a module for an Apache web server (currently only supported on Windows, Linux might be supported soon) that follows the OData standard (http://www.odata.org).
Installation
To install the Advantage Web Platform, execute adsweb.exe contained in the ADS installation files. The installation process runs quite easy, without having any options to choose.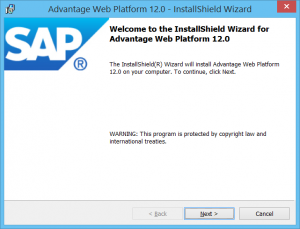 After the installation is finished, the Apache icon appears in the taskbar. Via the context menu of this icon, the Web Platform can be started and stopped.

Testing
By default, the Web Platform is configured to listen to port 6272. You can change it by modifying httpd.conf located in "Program Files (x86)\Advantage 12.0\adsweb\Apache24\conf". That folder contains another conf file, adsweb.conf, which is used to configure OData end points. But first try out if Apache is running. Open a Web Browser (Google Chrome is recommended due to it's great debug options) and type
http://localhost:6272
into the address line. Hit enter to open the test page.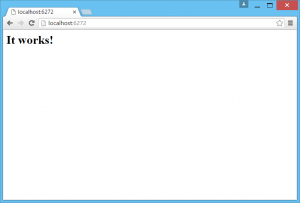 As a next step, open adsweb.conf and search for the DBConnectionString configuration of example_db. This contains a path to a sample database (Program Files (x86)\Advantage 12.0\adsweb\example_db\tasks.add). Add this to your Data Architect repository for testing.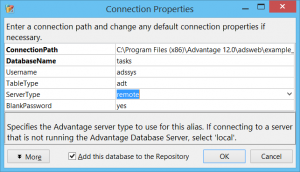 Then connect the database and open table by table. This will force a reindex, so the collation fits to your local settings. Once done, type
http://localhost:6272/adsweb/example_db
into the address line of your Web Browser. If all works well, you'll be prompted for database username and password and then this should return an XML script containing the OData end point description.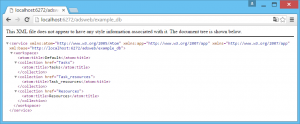 As a next step, get the content of the Tasks table by using the URI (unique resource identifier)
http://localhost:6272/adsweb/example_db/v1/Tasks
For details on the Advantage-specific URI format see the Advantage help file, chapter "Advantage Web Platform". The basic URI is
<PROTOCOL>://<WEBSERVER>:<PORT>/adsweb/<LOCATION>/<API_VERSION>/<COLLECTION>
Currently the only supported API_VERISON is "v1". By default, an HTTP GET operation to that URI returns an XML script. But you can also return the result set in JSON format (Javascript Object Notation), which is easier to read and browse than XML. For that, add the format as a parameter to the URI:
http://localhost:6272/adsweb/example_db/v1/Tasks?$format=json

There's a plugin for Google Chrome available which formats the returned JSON string to a better readable format. This plugin, named JSONView, can be installed from the chrome extensions. Using that plugin, the resulting screen looks like this: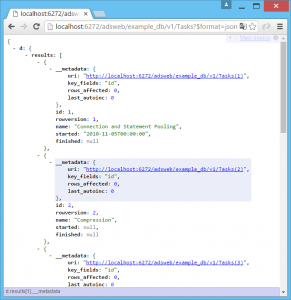 Conclusion
Advantage Web Platform is a great platform to enhance the reach of your database to operating systems that are not supported by the Advantage Client Engine. Using that Apache module enables you to write Advantage data driven applications for Android, iOS, and other mobile devices.